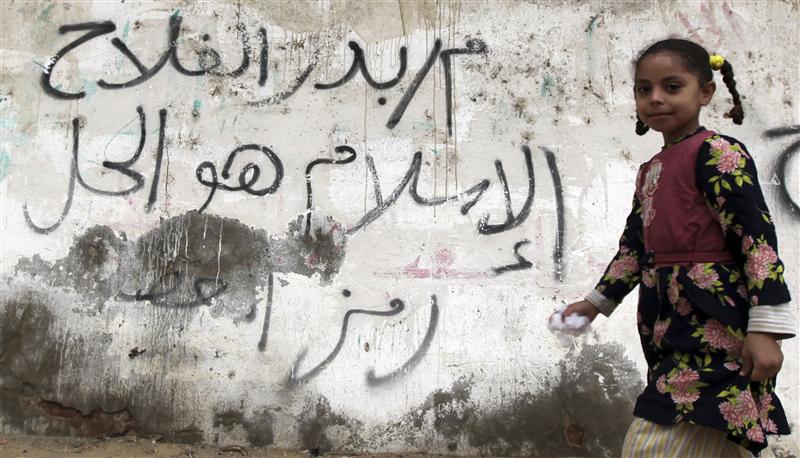 A young Egyptian girl walks in a Monofeya neighborhood with the phrase, Islam is the solution drawn on the wall behind her. Reuters.
Egypt's Muslim Brotherhood said on Wednesday that the proposed document by the United Nations (UN) on "Eliminating and Preventing All Forms of Violence Against Women and Girls" holds a deceptive title and includes articles that contradict with the principles of Islam and destroys its ethics.

The Islamist group, from which hails Egypt's current president, believes that the document issued by the commission on the status of women of the UN "seeks destroying family values as a final step of cultural and intellectual invasion of Muslim societies."

A statement issued by the Muslim Brotherhood said, "This document violates all the fundamentals of Islamic Sharia (law), as it grants girls sexual freedom, as well as the freedom to choose their sexual orientation and their sexual partner, in addition to raising the age of marriage."

The group also criticized equating women who practice sex outside wedlock to wives and children born outside of wedlock to 'legitimate' ones in all rights, adding that the document grants homosexuals their full rights, protects them and respects them.

"The document also protects women who work in prostitution."

The Brotherhood said that "equating sexual assault by a stranger with assault by a spouse and granting the wife the right to press charges of rape undermines the values of society."

"We reject substituting guardianship with partnership, distributing family roles fully between men and women, the full equity in martial law as it stipulates abolishing concepts of polygamy, dowry, and allows Muslim women to marry non-Muslim men," said the statement.

The Brotherhood's statement also condemned taking the authority of divorce from husbands and handing it to the judiciary, sharing property after divorce and canceling the concept of taking the husband's permission to travel, work or use contraception.

The Brotherhood also called on other Muslim nations and Islamic organizations to reject the document.

The proposed document is expected to be endorsed this week at the 57th session of the Commission on the Status of Women (CSW57), which convenes from the fourth of March to the fifteenth at the UN headquarters in New York.

The main theme of CSW57 is the "Elimination and prevention of all forms of violence against women and girls."

Meanwhile, Egypt has sent the Presidential Aide for Political Affairs Pakinam Al-Sharkawi as a part of an official delegation to the UN's session.

Sharkawi confirmed in her statement to the UN, "The Egyptian government attaches great importance to combating all forms of violence."