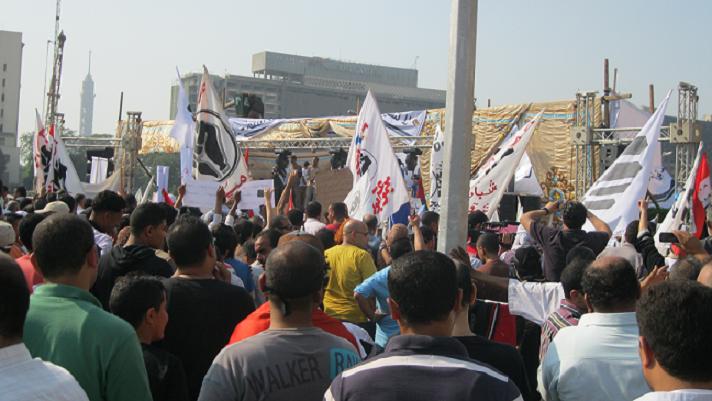 Liberals protesting against the Muslim Brotherhood - Fares Hamdan/Aswat Masriya
Egypt's Muslim Brotherhood has called on members and supporters to participate in mass rallies planned for Friday by a number of Islamist parties and groups to demand a constitutional article calling for the application of Islamic Law.
Leading Brotherhood figures in the north-eastern Sharqiya governorate staged a demonstration on Tuesday evening at which they called on the public to participate in the planned rallies.
The Muslim Brotherhood, the country's largest Islamist group, distributed flyers calling on Egyptians to participate in the Friday rallies so as to "thwart the attempts" of those aiming to sabotage the work of Egypt's Islamist-led Constituent Assembly, currently in the process of reviewing a draft constitution.
Although the Brotherhood has yet to issue an official position on the planned Friday rallies, Tuesday's demonstration in Sharqiya suggested that the group would make an appearance at the event.
Other Egyptian Islamist groups, meanwhile, including Al-Gamaa Al-Islamiya and the Salafist Calling, have formed a coalition of political parties and Islamist forces to demand that Egypt's new constitution is shaped in accordance with Islamic Law. These groups are spearheading calls for the planned Friday rallies.
Upon its establishment last month, the coalition declared that it would not accept the takeover of the constitution-drafting process by a "handful of liberals."
The coalition calls for the amendment of the draft constitution so that the "precepts" of Islamic Law become the "only source" of Egyptian legislation. This contrasts with what is stated in Article 2 of the current draft constitution, which states that the "principles of Islamic Law" should represent the "main source" of legislation.
The Muslim Brotherhood's Freedom and Justice Party, which holds a majority of seats in the Constituent Assembly, has issued calls to "protect Egypt's Islamic identity," but the party has not formally objected to the current text of Article 2, leading to a growing rift with its more conservative Islamist counterparts.
The drafting of Egypt's new national charter has been hindered by conflicts between the country's liberal and Islamist camps over the constitutional role of Islamic Law. Several articles in the proposed charter related to the issue have been rejected by liberal forces and human rights advocates.
The fate of the Constituent Assembly itself, meanwhile, is uncertain, as it remains at the centre of a legal battle over the constitutionality – or lack of thereof – of the mechanisms employed to select its members.
On Tuesday, a lawsuit against the constitution-drafting body was referred to Egypt's High Constitutional Court, which, if successful, could lead to the assembly's dissolution.