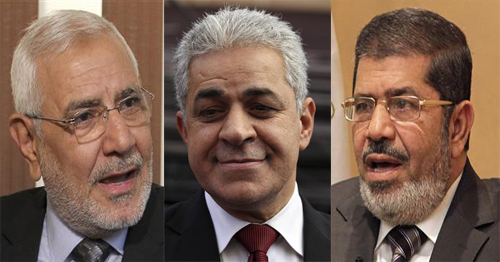 Abdel Moneim Aboul Fotouh, Hamdeen Sabahi and Mohamed Mursi - REUTERS
Muslim Brotherhood presidential finalist Mohamed Mursi met Hamdeen Sabbahi, Abdel-Moneim Abul-Fotouh and Khaled Ali on Monday to discuss Saturday's verdict in the trial of former president Hosni Mubarak and his associates, as well as the upcoming presidential election runoff.
Sabbahi, Abul-Fotouh and Ali – who stood in Egypt's recent presidential poll but failed to reach the runoff round – later met with April 6 Youth Movement founder Ahmed Maher, prominent activists Alaa Abdel-Fattah and Ahmed Harra, and the Revolution Youth Coalition's Sally Toma, Mohamed El-Qassas, Shadi El-Ghazaly and Ziad El-Eleimy MP to discuss the same issues.
On Saturday, Hosni Mubarak and his interior minister Habib El-Adly were handed life sentences for their role in the killing of peaceful protesters during last year's uprising. Six of the latter's assistants were acquitted of similar charges.
In a separate corruption case, meanwhile, Mubarak, his two sons Alaa and Gamal, and Egyptian business tycoon Hussein Salem were all found not guilty.
After the verdict, tens of thousands of protesters returned to Cairo's Tahrir Square and public squares throughout the country to question the integrity of Judge Ahmed Refaat who presided over what was described as the 'Trial of the Century'.
Demonstrators also denounced the presence of Ahmed Shafiq – Mubarak's last premier – in the presidential election runoff on 16-17 June.
Shafiq, who held many high-profile governmental positions during the Mubarak era, is seen as a counter-revolutionary force by many revolutionaries.