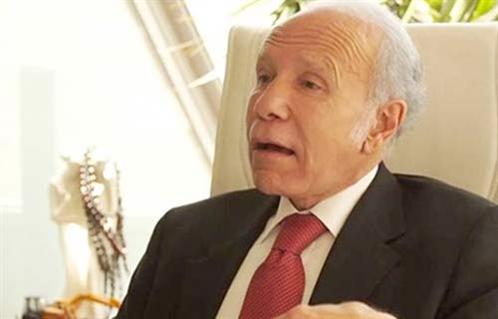 Businessman Salah Diab, the owner of private newspaper Al-Masry Al-Youm. Photo from Al-Ahram
CAIRO, Nov. 9 (Aswat Masriya) – The South Giza prosecution has ordered the detention of businessman and founder of Al-Masry al-Youm newspaper and Chairman of PICO Salah Diab and his son, Tawfik, for four days pending investigation into charges of possessing weapons and ammunition without a license.
The pair were arrested on Sunday, following a decision by the public funds prosecution Saturday to freeze the personal assets of Salah Diab.
The public funds prosecutor Ahmed Bahrawi had told Aswat Masriya previously that this was a temporary decision which also included real estate tycoon Mahmoud El Gammal and former Giza governor Yehia Saad.
The Mubarak-era businessmen Diab was accused of seizing vast areas of state land at less than their real value.
Bahrawi had told Aswat Masriya that the decision to freeze their funds is "precautionary" and added that it comes in light of a large body of evidence suggesting that the said businessmen acquired the land "illegally".
The Federation of Egyptian Industries (FEI) had issued a press release Sunday, criticizing the way the arrest was handled, saying that it reflects negatively on the investment climate as a whole.
The Federation urged security bodies to maintian "Egypt's civilized facade" in a manner that will not conflict with ensuring the security and stability of Egypt and its citizens.
In what has been described as an undignified arrest, security forces raided Diab's home, handcuffed him and leaked pictures to the media.