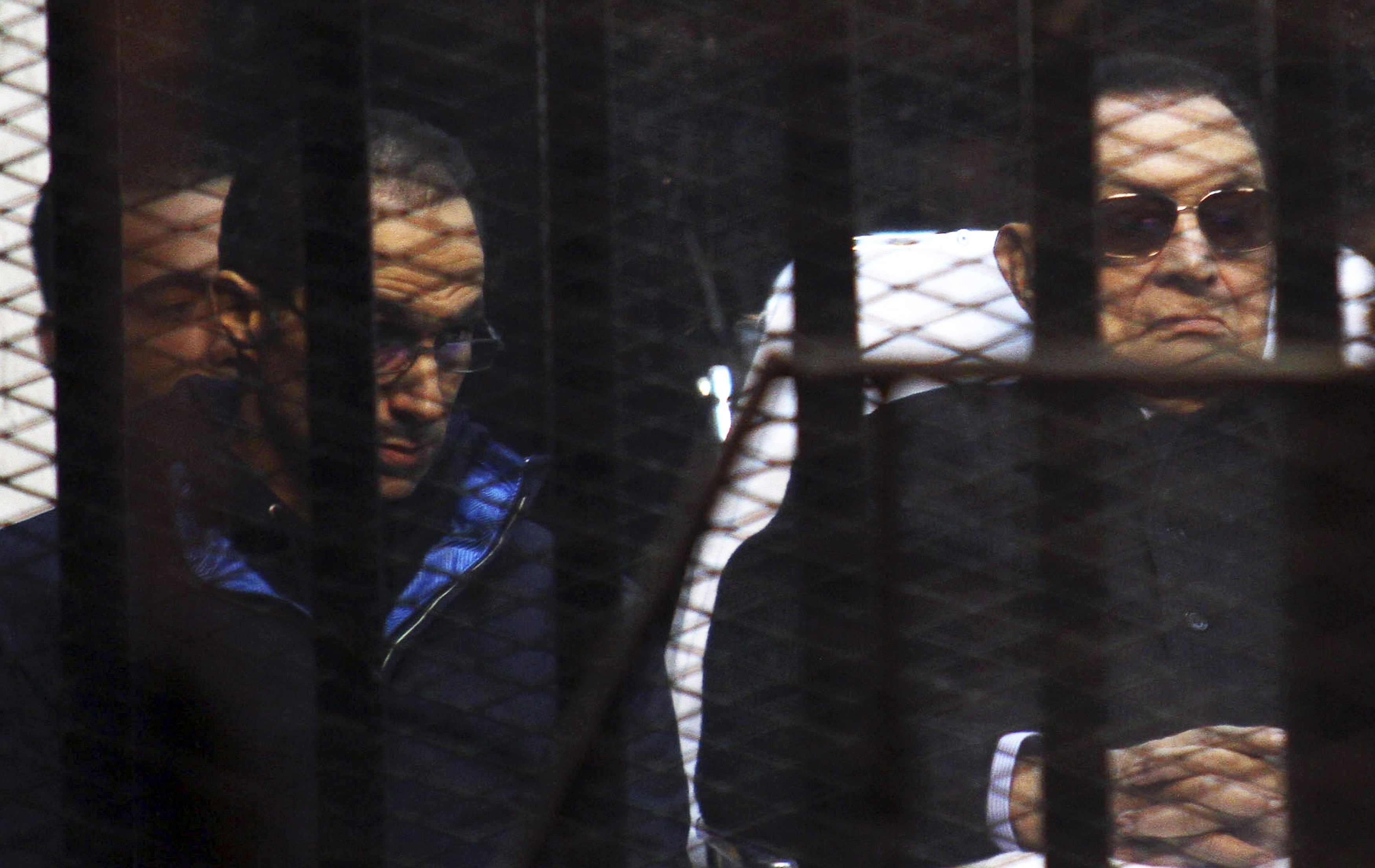 Former Egyptian President Hosni Mubarak listens next to his son Gamal (L) inside a dock during his trial at the police academy on the outskirts of Cairo November 29, 2014. REUTERS/Stringer
CAIRO, Jan 25 (Aswat Masriya) - The sons of former President Hosni Mubarak will not yet be released from prison despite a release order by a court last week, a prison department official said on Sunday.
Mohamed al-Kholoussy, director of the prison authority, said that Mubarak's sons are still in custody since they are facing the charge of manipulating the stock market.
The Cairo Criminal Court ordered on Thursday the release of Gamal and Alaa Mubarak pending a retrial in a case accusing them and their father of of seizing over 125 million pounds allocated to presidential palaces.
Alaa and Gamal were initially sentenced to four years in prison after being found guilty of aiding their father in embezzlement in May 2014. Mubarak was sentenced to three years in prison in the same case.
Earlier this month, the Court of Cassation overturned the conviction and ordered a retrial.
The two sons are still in Torah prison, Kholoussy said, adding that they will not be free to leave until they are acquitted or released by the court.
Another source in the prison department said that the two sons had five cases against them and they have only received four release orders.
The court adjourned the stock market manipulation case to March 31.
Mubarak and his two sons were taken into custody in April 2011. Alaa and Gamal have been jailed since then, while Mubarak was released in August 2013 when he was put on house arrest in a military hospital.
On November 29, 2014, the Cairo Criminal Court dropped the case against Mubarak over complicity in the killing of protesters during the 18-day January 2011 uprising which toppled his regime.